Introduction
Ayurveda has given us many such blessings, which are helpful for us. It is one of them. Hempushpa is a classical Ayurvedic medicine whose main components are self-generated alcohol and the bark of the Ashoka tree. In many places, its name is also known as Ashokarishta.
It is known that this is due to the bark of the Ashoka tree found in it. This is one of the most popular remedies for female disorders, menstrual disorders, and hormonal imbalances. It is helpful in dysmenorrhea, leucorrhoea, dysfunctional uterine bleeding, leucorrhoea, and other gynecological diseases.
Hempushpa is also one of the most essential medicines prevalent for women. Come through this article, let us learn in detail about the various benefits of using the bark of the Ashoka tree so that the misconceptions about this medicine can be dispelled and we become aware.
About Hempushpa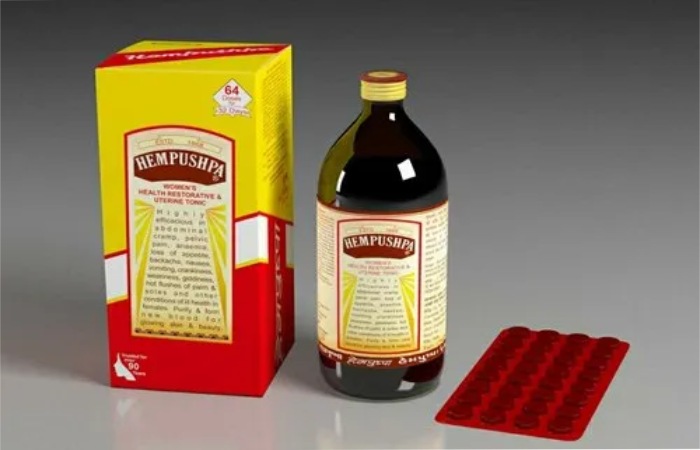 Hempushpa is an ayurvedic medicine that is primarily use for the treatment of Hormonal Imbalance. Secondary and off-label uses of Hempushpa have also been mentioned below. The critical ingredients of Hempushpa are Ananthamoola, Ashwagandha, Bala, Daruharidra, Lodhra, Manjishtha, Punarnava, Gambhari, Shatavari, Shankhpushpi. The properties of these have been shared below. The correct dosage of Hempushpa depends on the patient's age, gender, and medical history. This info has been provided in detail in the dosage section.
Key Ingredients of Hempushpa
Lodhra, Manjith, Anantamul, Bala, Gokhru, Brahmi, Shankpushpi, Ashok, Musali, Shivlingi, Punarnava, Asgandha, Bach, Dhai, Daruhaldi, Mulethi, Gudhal, Gambhari, Nagarmotha, Gorakhmundi, Shatavari, Kateri, Palash, Nilofur
Benefits of Hempushpa
Hempushpa is helpful in the treatment of many diseases. Hempushpa is a well-known uterine tonic mainly use for excess bleeding and pain. It is a famous Ayurvedic formula for menstrual disorders like excess bleeding and pain. The bark of the Hempushpa Ashoka tree3 is helpful in colic and dysmenorrhea.
Ashoka tree bark is a uterine tonic7 and valid for irregular menstrual cycles. Encourages the flow of urine, and the bark of the Ashoka tree helps reduce 9. Hempushpa helps reduce bleeding piles and dysentery. Apart from this, it is also used to treat colitis and ulcers.
Some Key Benefits of Hempushpa
This syrup is beneficial in abdominal cramps, pelvic pain, anemia, backache, nausea, and vomiting.
Helps to overcome weariness, fatigue, and loss of appetite
It helps to fortify the immune system
It helps manage urinary problems like a burning sensation during urination
Helps manage gastric problems
It helps regulate hormonal balance and menstrual disorders
Helps regularise menstrual periods and helps in blood purification
Helps manage the menopausal syndrome
Side Effects of Hempushpa
Few side effects of Hempushpa have observed based on several types of research it is relatively safe for most women. Some women may feel a burning sensation after taking it, but this effect is only in women suffering from acidity or heartburn. The most common side effects of Hempushpa are delaying menstruation, decrease menstrual blood flow, and absence of menstruation.
Do not take Divya Hempushpa or take precautions if you suffer from these diseases. If you have a specific medical condition, do not take it, as it may worsen your condition. You can take it even if you have any of these diseases if your doctor thinks it appropriate – it can affect hormone levels, which may be adverse for pregnancy. That's why pregnant women should avoid using it. Lactating mothers can take it if they experience ailments like heavy bleeding and leucorrhoea. It should not have adverse effects on lactating mothers and children. It also contains a good amount of calcium, promoting optimum health of bones and joints.
Safety Information of Hempushpa
Do not exceed the recommended dosage
Read the label carefully before use
Store in a cool, dry place away from straight sunlight
Keep out of reach of children
Keep at least half an hour break between food/drink/ any other medicines and allopathic medication.
Conclusion
It syrup is an Ayurvedic tonic intend to treat many physical ailments, from blood purification and hormonal imbalance to menstrual disorders. It is known to cure almost all women's physical and mental diseases.