Your skin is your biggest asset!
Whether you believe it or not.
'Feeling confident in your own skin!'
Well, it is not exactly the real moisturized skin they are talking about in this proverb. However, we all know the confidence that comes with good skin is undeniable!
Do not get us wrong!
It is not about having crystal clear mirror-like skin.
It is more about having the confidence to walk with clean skin and making makeup a fun hobby and not something you absolutely need.
Yes, we all can achieve that!
All we need is a good life and a fulfilling skincare routine.
Surely we have all met people who are very much big on skincare, and do you know why?
It is not just about hydrating or moisturizing your skin. It is also about taking care of yourself and your mental health.
How?
Skincare and mental health have a greater association.
Have you ever tried to have a skincare night? Where you do nothing!
Put on some peaceful music or your favorite show and just relax with a sheet mask on?
Even thinking about it can make you relaxed!
In this excerpt below, we will be talking about the best skin care products of 2022 and how skincare is so important.
Why Do You Need Daily Skin Care
If you are the kind who still believes that just washing your face with water every day is enough skincare for you, then you are wrong!
Here is all you need to know about the importance of skincare.
Skincare is important for a plethora of reasons, and when we talk about skincare; we are not just talking about the skin products you can use.
It is also about taking care of your system, because if your inside is not healthy; you can never have healthy skin.
1. To Keep Your Skin Hydrated
Hydration of your skin is very important to keep it smooth and moisturized.
When you go out into the environment, there are many factors that can make your skin dry and crusty.
Plus, hydrated skin is very important for the proper functioning of the skin. Every type of skin should be hydrated; there is no exception.
2. To Delay Signs Of Aging
The signs of aging will show early if you do not take care of your skin!
Dry and crusty skin makes your skin more prone to wrinkles, and the way you sleep and the way your face contracts with every emotion all are reasons for aging.
If you prevent them from showing up early, you need to take care of your skin both externally and internally.
Internally, by eating healthy!
3. To Relax You
A skincare routine at the end of the day will never fail to relax you.
– First, we all love the feeling of clean skin!
– Second, you will also fall in love with the way you will be distressing with that routine.
– Third, it is taking time out for yourself without worrying about the world you left outside the house door.
– Fourth, it will help you sleep better.
4. Protects You From Harmful Skin Conditions
Yes, skincare is not just for your relaxation and having clear skin; it is also about protecting yourself from harmful skin conditions.
These could be minor infections caused by small dirt and pollution particles stuck in your skin or even big ailments like skin cancer.
5. Detoxing Your Skin
If you do not detox your skin, it will not get the extra leverage to rejuvenate the skin cells.
You can detox your system through skincare products and collagen peptides and help new skin cells build-up for healthier and more vibrant skin.
Now, when we talk about skincare, it is not just about the external fit but also what you are doing internally.
So, basically!
Drink some water, and add some greens!
The Best Skin Care Products In 2022
Now that we are talking about the best skin care products, we will be discussing an entire skincare regime.
A skincare regime includes-
– Cleanser
– Exfoliator
– Toner
– Moisturizer
– Sunscreen
– Serum
– Night Cream
We will be talking about the best products of 2020 for each one of them.
Cleanser [Monet Be Gentle Creamy Cleanser]
This is not just a Monet best seller but also a 2022 best seller on seeing the positive and phenomenal customer reviews about this product.
A cleanser filled with peptides and AHAs (alpha-hydroxy acids), this product is bound to leave your skin fresh and clean.
However, the peptide as an ingredient will prevent your face from drying up.
The other Monat Skin Care Products are also receiving quite some praise in the market.
Exfoliator [Go-To Exfoliating Swipeys]
Don't we all hate it when we get that peculiar tingly sensation on the skin whole exfoliating with a chemical exfoliator?
Fail to understand whether that is the product of working, or they are simply stripping all the important oils off our face.
This is why you need a 'non scary' exfoliator!
The Go-to Exfoliating Wipes are filled with AHS and all the essential oils which are required for the sensitive skin on your face.
Plus, they are wipes, so you can carry them anywhere!
Toner [Avène Eau Thermale Gentle Toning Lotion]
What is the purpose of a toner?
They are supposed to restore your skin after all the cleansing and exfoliation.
So, you will definitely need something rich in natural silicates to restore your skin's PH balance, right?
Well, this is why you need to get this user's favorite pick. This is infused with spring water and silicates, and they are best for not irritating your skin after application.
Moisturizer [Glow Recipe Plum Plump Refillable Moisturizer]
If there is one thing that Glow Recipe is known for, then it is its Plum Plump Moisturizer. It is both a moisturizing and skin-replenishing power after a lot has gone through your skin, from pollution to heavy makeup.
The key ingredient for this product is hyaluronic acid, known for its phenomenal hydration and anti-aging properties.
It comes in a creamy whipped formula, and it is soothing to your skin as well!
Sunscreen [Essentials Face + Body Sunscreen SPF 50]
What better pick than the winner of the GH Beauty Lab's most recent body sunscreens test. Some of the common pointers for which it has become a user favorite are-
– The lightness of the formula, generally sunscreens are really thick in nature.
– It didn't stain any fabric.
– It was not greasy, which could attract a lot of dirt to sit on it.
– It is not thick, which can make you sweat.
Plus, with an SPF of 50, it is great to be applied as a base to smooth and flawless makeup.
The water resistance is just the cherry on top!
Serum [Kiehl's Vital Skin Strengthening Serum]
So, do you want a good serum to add to your night skincare regime?
How about getting one that can easily adapt to what your skin needs.
This serum is a fan favorite because its main ingredient is Adaptogens. This does not only focus on skincare but also on overall wellness.
Known for taking the right amount of nutrients and oxygen needed by the skin and utilizing them to rejuvenate and prevent aging.
Night Cream [Regenerist Retinol24 Night Moisturizer]
Again, what is a better pick than the winner itself!
Yes, the night cream winner for GH Beauty Lab's most recent night cream test.
Now, why does one need to apply a night cream?
For overnight hydration and for the purpose of making your skin firm. You might not know, but when you are sleeping, you are preventing your skin from aging.
This night cream is the best pick for all the above-mentioned features.
How Should You Pick Your Skin Routine Products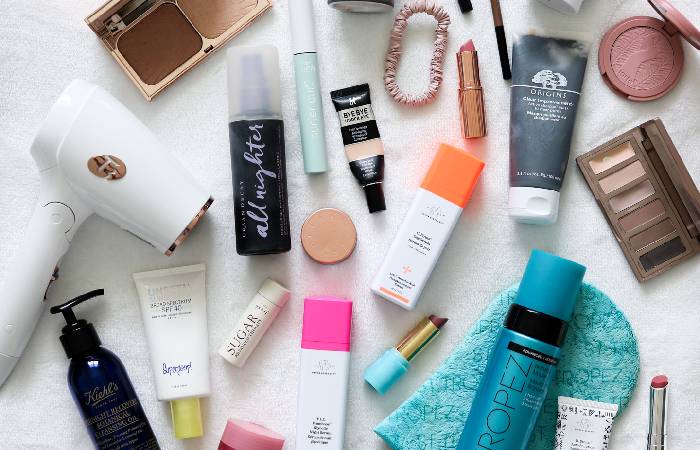 These are some of the key pointers that you should look into when it comes to picking your skincare routine.
Because you shouldn't go for everything just because it looks fancy!
1. What Your Skin Needs
If you already suffer from a lot of skin conditions like acne or rashes. Or, if you have extremely sensitive skin, then you shouldn't apply everything and anything on your skin.
Always ensure that what you are using is dermatologically tested and will suit your skin.
2. The Season
The season plays a big role in your skincare products.
It depends on whether your environment is too dry or too humid. How is the sun in the area, etc.?
You have to choose your skincare products accordingly!
3. The Age
No matter how good the ingredients are, not every skincare product is for everyone.
You may have observed that some of the skincare products are strictly after 30. This is because they have some properties which can prevent aging.
Now, that product might not be suited for a teenager.
Beautiful Inside Out!
Skincare products might be available, but remember that good skin doesn't just talk about external factors.
It is about having healthy skin inside out!
So, take care of your gut!
Drink a lot of water!
Add fresh ingredients to your diet!
&
Do not!
I repeat!
Do not ever sleep with your make-up on. You should remove it after a party, no matter how late at night, but it's a must.