Weddings: we all have to attend them sometimes—maybe a lot more often than just sometimes, and more like every weekend for a season or two. When you reach a certain stage in life, suddenly it seems like everyone you know is getting married and you're invited to all of them. But it's all part of being a supportive person who gets to participate in celebrating your favorite people as they start a new chapter of their lives. It's a great indicator of what a good friend you are to receive so many invitations, but that also means you need to have clothes to wear to all those events. And you can probably expect to see a lot of the same people at each wedding if you run in the same friendship circles, which means you can't just repeat the same "guest of the bride/groom" outfit every time.
You need wedding guest dresses that show off your personality and make you feel like you're going to a fun and exciting event in order to prevent wedding guest monotony. Usually the way to avoid feeling a sense of sameness from all the weddings you're attending is by wearing something stylish and bold. But can you wear a stand-out outfit to a wedding when you're not the bride? You don't really want to command all the attention, now do you? Since upstaging the bride is a super uncool faux pas that's not on your agenda, let's go over what you can safely wear (and what you should never wear) to a wedding as a guest.
You Can Wear Bright Colors
Weddings are meant to be colorful occasions, so you don't have to feel bad about showing up to the ceremony decked out in a bright pattern, print, or shade. Because white is the most attention-grabbing color at weddings, and only the bride wears it, the more vibrant and colorful your outfit, the more the bride stands out. It's a win-win situation. You get to be your fully stylish self in a color you feel gorgeous in, and you're still helping your lovely friend the bride be the stunning center of attention.
Reformation's Buttercup Dress in Cherry.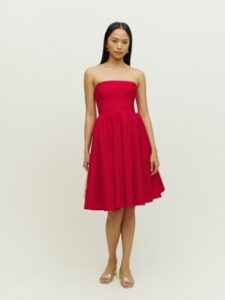 Reformation's Marguerite Dress in Flambe.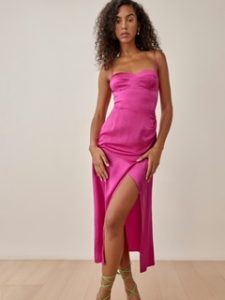 Bold Patterns Are Fine
The same rule applies to bold patterns. You don't see the bride showing up in a zebra-print dress, so that area of attire is all for the guests (although it could happen, in which case conventional wedding attire rules are probably already thrown out the window). Try to stick to cheery patterns for spring and summer weddings, and deeper jewel tones for winter and fall weddings. Think of it this way: you're probably going to show up in the married couple's wedding photos which they will treasure forever, so it's always kind to wear something that fits into their wedding's theme and season.
Reformation's Tivoli Dress in Black/Perfume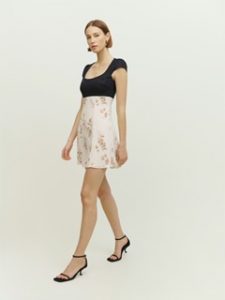 Reformation's Jasen Dress in Forest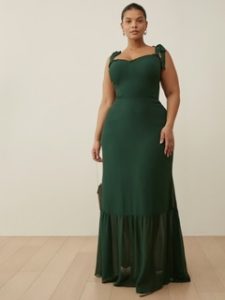 Reformation's Veria Dress in Tarragon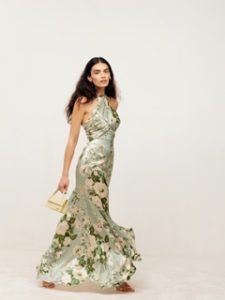 Don't Wear White
Never wear white to a wedding unless the invitation explicitly says to. Even off-white is a no-no. When it comes to subtle shade differences in the beige-y category, use your best judgment. If it could be worn as a wedding dress or as the bride's bridal shower dress, it's a no. If it could be worn as a bridesmaid dress, on the other hand, that's perfectly fine. Here are a few neutral colored dresses that would be fine to wear to a wedding.
Reformation's Emersyn Dress in Champagne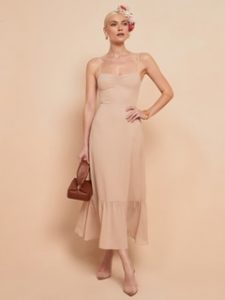 Reformation's Rudi Dress in Sweet Pea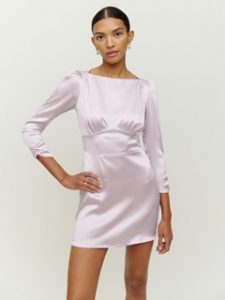 Reformation's Winslow Dress in Blush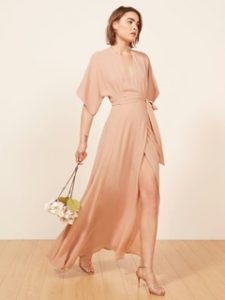 Go for Mini or Maxi Length Dresses
There's no rule on length for wedding guests' dresses. Mini, maxi, and midi length dresses are all adorable and should be worn to all those weddings you're attending. The only factor you need to consider is the weather, so you can stay comfortable throughout the ceremony and reception. And of course, you should also definitely be thinking about the dancing you'll be doing at said reception. Twirlable dresses encouraged.
Reformation's Twilight Dress in Toile De Jouy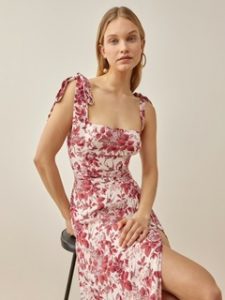 Reformation's Kastoria Dress in Lucca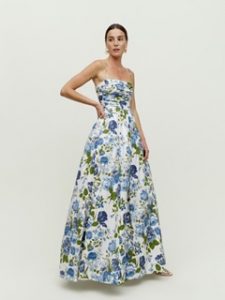 Pants Are Great Too
Pants are also A-okay for wedding guests. You're not limited to wearing a dress at every wedding. Pantsuits sound like a great idea, as do jumpsuits and rompers.
Reformation's Kinsale Set in Black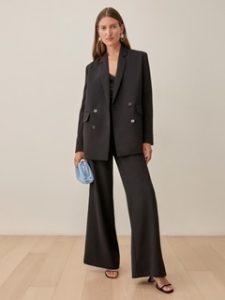 Takeaway
It's a big role, being a wedding guest. You have to find something to wear to each of the many weddings you're invited to, and while you want to be your bold authentic self, you definitely don't want to upstage the bride on her momentous day. Walking the line between wearing something eye-catching that makes you feel confident and not taking attention away from the bride doesn't have to be tricky if you follow some simple guidelines. Don't forget to have a little fun at all the weddings too, as you celebrate your best friends' marriages.