Colored Boots?
Your pairs of black ankle boots are real essentials to have in your shopping. However, you can brighten up your outfits by daring with color. Yellow, red, green, blue brightly colored boots brighten up your business. They know how to stand out by creating a colorful and particularly original touch. Succumb to the fashion of bright ankle boots to compose a daring, feminine, and fashionable look. By emphasizing your shoes, you catch the eye and choose where it should land first when you look at you. This fall and winter, stay warm while looking stylish. To avoid fashion faux pas, follow our tips for composing vibrant looks, but no less chic.
Also read: The Treatment Of Your Spa
Which Pair Of Colored Boots To Choose?
Wearing color in winter is possible! The significant trend of the season, colored boots are a real must-have. Pointed, rounded toes, block or thin heels, smooth leather, or suede, the models are available. Choose shoes that will match your favorite clothes to create many everyday looks.
Colors such as red, curry yellow, khaki, camel, forest green, or even petrol blue are ideal for warming up your look. Your shoe becomes a real fashion accessory that brings style and elegance to your outfit.
To highlight your figure with brightly colored ankle boots, choose a heeled model that will lengthen your legs.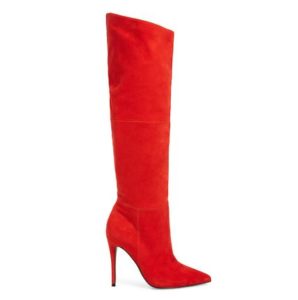 What To Wear Your Colorful Boots With?
Color is featured in the wardrobes. The colorful ankle boots go perfectly with neutral shades such as black, but also white, beige or gray. The goal is to harmonize the whole and keep an elegant silhouette. The total monochrome look with a touch of color on the feet is a careful bet that contrasts with elegance.
Transform a BCBG look into a contemporary look by teaming your colored ankle boots with a long skirt or dress. Bet on a pair of red boots with a stiletto heel, for example, which will add pep to your outfit. Finish the company with a leather jacket for a rock and glam touch.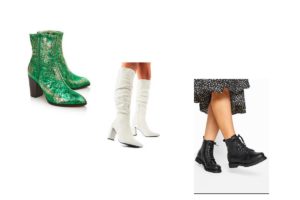 Casual and feminine look with a pleated skirt and colored boots. Avoid too sexy pieces and prefer to combine your dress with a mesh sweater or a shirt and an oversized scarf, for example.
You can also bet on raw, dark blue jeans, the simplicity of which will be enhanced by the color of the shoes. I prefer sober pants and avoid perforated or faded denim, which may overdo it. Complete the set with a straight-cut coat and a trendy little bag.
Also read: 4 Essential Vitamins for Beautiful Skin