How to Stand Out as a Nurse
Nursing is a dynamic job choice with plenty of available growth opportunities. If you are a nurse who is interested in developing your career or building your reputation in the field, there are plenty of ways to stand out to employers, clinics and healthcare leaders. The following tips will help you to make yourself known as a competent and caring RN. They will also help you to forward your education and skill set so you can make the most out of your nursing career.
Wear a Professional, Stylish Uniform
A polished, well-fitting pair of scrubs for men or women will help you to look professional as you go about your day. A stylish pair of scrubs adds confidence when starting a new role or building new skills. When shopping for nursing scrubs, look for those that are well-tailored, made of comfortable fabric and wick moisture so you can stay cool and comfortable while you care for patients.
There are plenty of fashion accents that are commonly added to scrubs, including mesh side panels, princess seams and feminine necklines. There are also fits like junior and missy available for nurses who are looking for style and contour. Pair a trendy mock wrap top or cute round neck top with a pair of flare pants or yoga style pants. A soft scrub jacket, printed scrub hat and a pair of athletic-inspired nursing shoes for women will help to complete your look. If you like to wear supportive nursing clogs, there are also plenty of non-skid or slip-resistant styles in a variety of fun patterns and colors.
When shopping for scrubs for men, there are certain styles and features that will help the male nurse to look and feel more professional on the job. Try wearing a tailored V-neck scrub top and a matching pair of drawstring scrub pants. Cargo scrub pants, knit underscrubs and a stylish scrub jacket can help you to complete your professional look. Some of the most popular styles of nursing shoes for men include nursing clogs, athletic footwear and slip-on work shoes. You may even be able to find nursing shoes in some of the sneaker brands you love to wear outside of work.
Keep a Positive Attitude
Nursing can be stressful and challenging. Busy hospital floors, intense situations with patients and long days are enough to test anyone's patience. While it is understandable to become fatigued or frustrated, always take some time to collect yourself and regain a positive attitude. Focus on your chief duties as a nurse, which are to help others and to care for patients. Know that no matter how difficult your day is, you are making a difference.
To help keep your attitude bright and positive, try to stick with other nurses who have the same approach. Avoid negative talk or gossip. Instead, spend your time studying your patient charts, reading over your nursing care plans and thinking about your next shift.
Writing a list of positive affirmations will help to remind you how talented of a nurse you are. They can also help uplift you when you are having a difficult day. Jot down a few uplifting quotes, loving compliments or inspiring sayings. Keep them with you at your desk, in your car or in your purse so you can refer to them whenever you are feeling down or discouraged. Engaging in self-care can also help you to stay emotionally healthy. Take time out of your busy schedule to relax, de-stress and tend to your physical and mental wellness.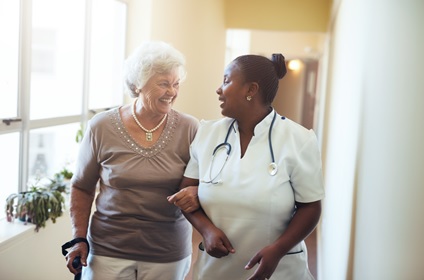 Get Continuing Education
When you are ready to advance your career, some nursing roles will require experience in a hospital or years of caring for patients. You may also need to show that you have worked in a specialized field for a certain number of years or that you have continuing education. Some nursing licenses and certifications will require continuing education credits in order for their credentials to stay active. Advanced education in the form of another nursing or healthcare degree can also help you to get a new and meaningful job with a well-paying salary.
A Bachelor of Science in Nursing (BSN) is one of the most popular degrees for nurses. With a BSN, you can gain the education and experience you need to apply for an exciting new role. Some of the most in-demand jobs for those with a BSN include nurse case manager and nurse informaticist. A bachelor's degree can also help you to become the head of a shift, a unit or a nursing department.
A variety of additional opportunities come when you earn a Master's in Nursing (MSN), a Doctor of Nursing (DNP) or grow your career to become an advanced practice nurse (APRN). Certifications exist for fields like dialysis, legal nurse consulting and occupational nursing. Research online or talk to a representative at your nursing school for more information on how you can become certified.
Gain Valuable Experience
By participating in a variety of nursing roles, you will gain valuable and varied experience that will last a lifetime. Even if you think you like pediatric nursing or psychiatric care, volunteer for different internship and practicum opportunities in nursing school. This approach will expose you to a spectrum of fields and patient cases. You may even fall in love with a field that you didn't know existed.
Seeing many different patients in school and in your first nursing job can be challenging and tiring. However, it also affords you the opportunity to practice your nursing care plans (NCPs) and learn more about how to handle different diagnoses. Every shift is a chance to learn something new that will help you to stand out when you meet with your supervisor for your annual review, or you interview with a hospital administrator for a new position.
Other ways to gain valuable experience include volunteering your nursing expertise with non-profit organizations or trying out a role as a traveling nurse or a cruise ship nurse. These jobs will get you outside of your comfort zone, give you a chance to see the way different hospitals work and allow you to work with a variety of different professionals in the medical field.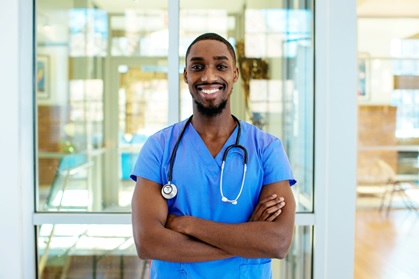 Put Patient Care First
When you put your patients first, you will always stand out as an exceptional nurse. The education and experience that you gain along the way will only make you more valuable to your employer and your organization. As you study and work your way to your dream job, be sure to do what it takes to stand out during your shifts. Come to work on time with a smile on your face. A polished uniform will help you to stay cool and comfortable while caring for your patients. When work becomes challenging or you feel like there is too much to do before you are ready for your next role, focus on your current role in your nursing facility. Your skill set and your positive attitude will help to prepare you for anything you discover on your journey.