Finding a well-fitting shirt is essential for any man, as it can make or break your overall look. When finding the best-fitting men's shirts, there is no one-size-fits-all solution, and each man needs to consider his body shape and size. The right fit will highlight the positives of your physique and conceal any negatives. Fortunately, with the proper guidance, finding the best-fitting shirt can be an easy and enjoyable process. In this article, we'll look at essential tips to find the perfect-fitting shirt for your shape.
1. Measure Your Neck and Chest
When finding a shirt that fits your build, you should start with your measurements. The most important measurements to consider for men's shirts are your neck and chest size. Take the time to measure your neck and chest accurately. This will ensure you find the right-sized shirt. For men with narrow shoulders, a v-neck shirt can provide a good fit and help emphasize your shoulders.
When taking neck measurements, remember to stand straight and look forward. Ensure your neck is not bent, which can cause inaccurate measurements. Place the measuring tape at the base of your neck and measure all the way around. For chest measurements, ensure the measuring tape is parallel to the floor and placed around your chest, snugly tucked beneath your armpits and around your shoulder blades.
2. Shoulder and Sleeve
A shirt's shoulder and sleeve length are also important factors to consider when finding a shirt that fits you well. Ensure your shirt has the right amount of room in the shoulders and that the length of the sleeves is appropriate. If the shirt is too big in the shoulders, it may look sloppy and unflattering. In contrast, a shirt that is too small could be uncomfortable or restrictive.
For men with broad shoulders and arms, a shirt with ample room in the shoulders and extra-long sleeves can provide a more comfortable fit and make the arms appear slimmer and more toned. A short-sleeve henley is a good option, as it can provide a more tailored and polished look. The short sleeves help balance broader shoulders and give the arms added shape and definition.
3. Length and Waist
Finding a shirt with an appropriate length is also vital for looking your best. The bottom of the shirt should be a couple of inches below the waist, about mid-zipper. It should not extend past the bottom of the buttocks.
The waist size of the shirt is also important and should be fitted to flatter the midsection. A form-fitting shirt is best for men with a larger waistline, while men with a slimmer torso may enjoy the look of a looser fit. For a fashionable and modern look, a slim–fit tee can help to draw attention away from the midsection and create a more tapered look.
4. Armhole and Cuff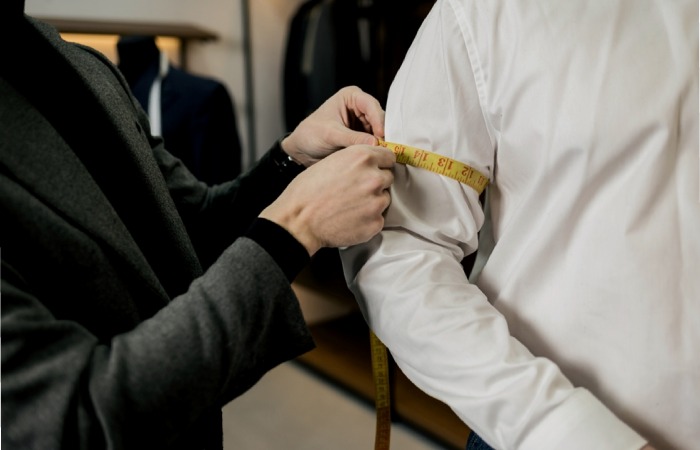 The armhole and cuff of the shirt are essential for creating a comfortable fit and shape. Ensure the armhole is not too tight, which may cause discomfort when moving or lifting arms. Also, the cuff must be tight enough not to slide down your arm when your hands are lifted. On the flip side, it should not be too tight as it can be uncomfortable and difficult to remove.
A button-cuff shirt is a good option for a more modern look and can be easily adjusted for optimal comfort. Pay attention to the stitching on the cuffs, as a shirt with high-quality seams and hems will be more durable.
5. Collar Size
The collar is also important for creating a good fit, as it provides the structure for your face. It should not be too tight as this can be uncomfortable and cause red marks around the neck. Ideally, the collar should fit smoothly and snugly around the neck, allowing a few fingers to pass through when fastened.
When selecting a collar, it is important to consider your face shape, as this can help you determine your best style. Most men can benefit from a traditional straight-point collar. However, if you have a rounder face, you may opt for a medium-spread collar, which can provide more space and help create an elongated look. Alternatively, a button-down or cutaway collar can be better if you have a longer face shape, providing a more structured and tailored look.
6. Fabrics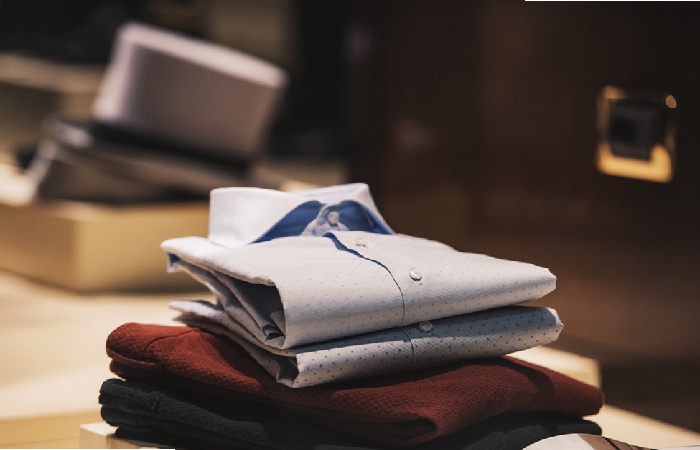 The shirt's fabric is also important when selecting the best-fitting shirt. Cotton is often considered the best material for shirts, offering breathability, durability, and sustainability. However, new technologies with synthetic fibers offer many benefits.
Consider selecting a blend of materials that are soft, breathable, and stretchy. Polyester and elastane blends can create a more form-fitting look, allowing flexibility and movement. You should choose materials based on your needs and preferences to ensure a well-fitting and stylish look.
Look Great on Any Occasion
Ultimately, finding the perfect-fitting shirt for your shape requires considering all these elements. Take accurate measurements, keeping an eye on armholes and cuffs. Selecting a suitable collar, sleeve, and body style can create a fitted look that makes you feel confident and look your best.
In addition, by choosing the right fabric, you can ensure comfort, breathability, and sustainability from your shirt. Make sure to take the time to find the best-fitting shirt for your size and shape. You can look good and feel great for any occasion with the right guidance and knowledge.