Often, skin sensitivity is a symptom of an underlying condition, including skin diseases like atopic dermatitis, eczema, and rosacea. Dermatologists look at the scale of skin sensitivity by checking skin erosion, bumps, and the presence of dehydrated skin or severe flushing and blushing. Most doctors also recommend a patching test to identify allergens that may contribute to it.
Persons with sensitive skin may also complain of itching and allergic reactions to specific products, to which dermatologists recommend an all-natural anti-itch cream such as Dermeleve and similar solutions.
If you're one of the many who don't know how to manage sensitive skin, it's your lucky day. Here's a list of dermatologist-recommended strategies to care for your delicate skin.
Know what to avoid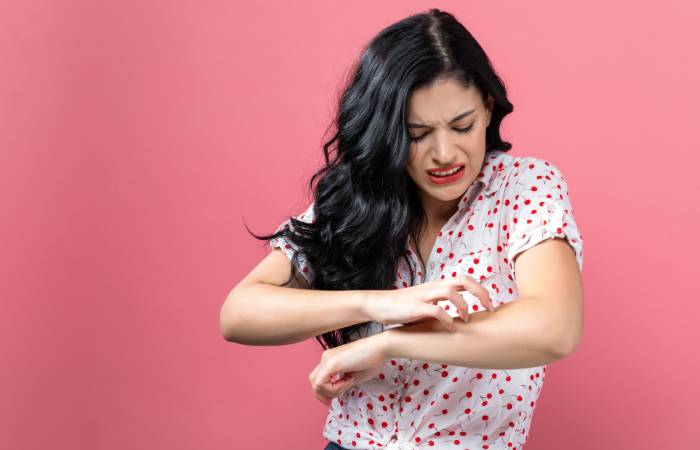 Skin reactions often occur when harsh chemicals come in contact with a person's delicate skin. Dermatologists often discourage their patients from using skin products with synthetic perfumes, fragrances, colorants, and other additives.  The same holds for moisturizers and toners, which ideally shouldn't have color or fragrance.
Dermatologists advise those with delicate skin to avoid using products with alcohol, alpha-hydroxy acids, parabens, and retinoids as they may cause adverse reactions to sensitive skin. Items with antibacterial properties can be harsh on your skin too.
Dermatologists also discourage consumers with sensitive skin from picking liquid eyeliners as they may contain an allergen called latex. Avoiding waterproof cosmetic products's also a good idea, as they may need cleansers with strong chemicals for removal.
Choose the right products.
There are no strict dermatological guidelines for what constitutes safe and natural products. However, there are certified organic products, and consumers have understood that natural products are those without synthetic compounds or chemical additives. Switching to mild cleansers, liquid soaps, and products specially for sensitive skin can also help control flare-ups.
According to the American Academy of Dermatology, it helps to determine silicone-based foundation alongside face powders with minor preservative ingredients to lower the risk of skin irritating.
Before trying out new skin care products, perform an allergy test or ask your dermatologist about it.
Always moisturize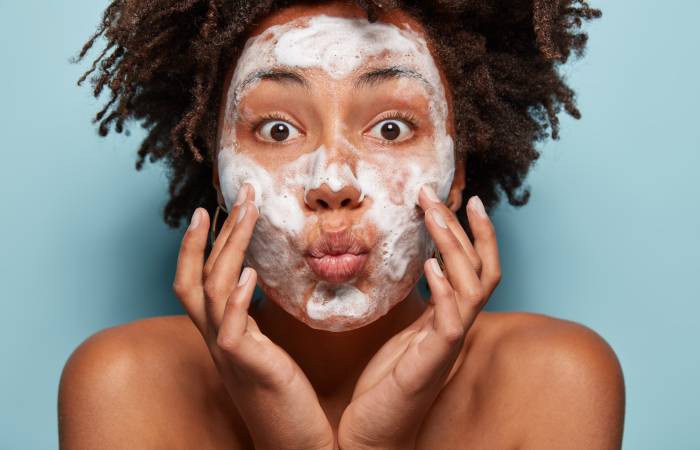 Dry skin is the primary cause of itching, which is also one of the hallmark indications of having sensitive skin. Moisturizing your skin helps increase hydration and enhances the skin's barrier, making it more resilient to abrasion and drying.
As with other skin care products, dermatologists recommend skin hydrating products that are natural and without additives. There are several lotions, creams, and topical moisturizers for delicate skin. Opt for items with shea butter, cocoa butter, and glycerine. Alternatively, you can choose plant-based skin products such as olive, coconut, and almond oil as they provide adequate and long-lasting hydration without irritating your skin.
Wear your sunscreen
Dermatologists highly recommend wearing sunscreen to protect you from the damaging effects in summer from the sun's rays. Too much sun exposure can increase your risk of skin irritation, dryness, and skin cancer. It may also aggravate skin conditions like psoriasis and eczema.
It's better if you can avoid exposure from 10 a.m. to 4 p.m. You may apply sunscreen in the winter if you're going outdoors. However, don't forget to moisturize to reduce the risk of skin flaking, itching, and cracking.
Maintain a healthy diet
Not many people know that what you eat may influence how your skin functions. For people with sensitive skin, it's recommended that they reduce or avoid consuming processed food altogether. More importantly, consuming food packed with antioxidants and anti-inflammatory properties could help. These include fruit, leafy greens, healthy carbs and fat sources, and nuts typically included in a Mediterranean diet. Avoiding soy and gluten-derived food products may be wise if you have food allergies.
Of course, you'd have to keep yourself hydrated throughout the day. Some suggest drinking a glass of lemon water as soon as you wake up can help manage skin sensitivity, as you get a dose of antioxidants and Vitamin C that helps fight irritation and promotes detoxification.
Use milk and colloidal oatmeal
Raw milk is naturally rich in nutrients and antioxidants. It's also packed with anti-inflammatory and skin-soothing properties. Some people use milk to relieve dryness and itching. Additionally, oatmeal has similar properties, improving the skin's protective barrier and making it less sensitive to irritation caused by fabric dyes and perfumes. Colloidal oatmeal is just oatmeal ground into powder, making it water-soluble. Mix it with raw milk or water to soak into when bathing.
Conclusion
Taking care of your skin is imperative in reducing irritations and skin sensitivity. The points discussed above can help care for your skin by protecting it against harsh chemicals and environmental and synthetic irritants. By avoiding harsh chemicals, you're not only doing your skin a favor but also doing your share in saving the planet.