Sometimes, adults just want to have fun with the perfect night in, and one way to do this is by planning a slumber party. Think back to your childhood and the classic pajama parties you had with your friends. You probably never slept a wink during those iconic sleepovers, but what you remember is the time shared with your besties, the laughs, the gossip, the snacks and the scary movies that knocked your socks off!
How about those slumber party nights of beauty when you experimented with glamorous hairdos and natural dry shampoo to achieve a bombshell look? Those were some of the best times ever. As adults, you can do it again.
1. Get Out the Old Polaroid
Back in the late 1970s, instant cameras were all the rage, and someone you know must still have a vintage Polaroid that you can snap selfies with during your ultimate slumber party. The genius of these cameras was that everybody could wait for their colored photos to emerge right before their eyes. Back in those days, it took about 10 minutes for a Polaroid pic to fully develop. That seems like eons, but waiting for the results was always worth it.
Today in this modern, technological world, some of the most famous influencers and fashionistas still use Polaroid cameras to share their favorite images on social media.
2. Coordinate Your Pajama Sets
When planning the perfect night in, it would be extra special to have a theme. You don't want one of your guests to arrive in lacy lingerie while the rest are sporting traditional pj attire. It's time to coordinate a look and have matching pajama sets for all of your friends. Maybe you could buy matching T-shirts and sweats. There are tons of options for creating the ideal pajama outfits. This will make for awesome adult slumber party photos on your Polaroid camera!
3. Plan a Pretty Pampering Session
What's more fun than a group of friends doing their nails, applying face masks and dancing to some music? Adult slumber parties mean making it glam and sharing some of your favorite products, such as an effective antioxidant serum, to stay ageless. Great skin care begins at home, and formulas that hydrate, brighten and promote elasticity are a grown-up's best friend.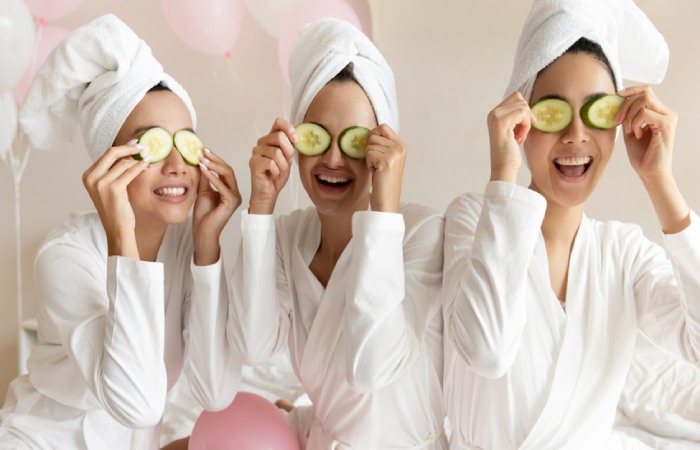 It's always fun to share, and you could gift your besties with a nourishing, solid conditioner bar to keep the frizzies and dry hair away. Toss a couple of them into their party swag bags before departing the next day. These conditioner bars come in gorgeous scents, including wild vanilla, citrus sun and sweet sandalwood.
4. Turn Up the Music
It doesn't matter what tunes you play, but just have some music that gets the group going. You can go old-school rock with Aerosmith or maybe "Let's Get Loud" from Jennifer Lopez's debut studio album in 1999.
Dance around, sing and act goofy. It's okay; you are amongst friends. If you need some help breaking out the music, consider Spotify. Music experts give you access to tons and tons of songs and even have their own "'80s Slumber Party Playlist" you can enjoy.
5. Order Takeout
Treat yourselves like the incredible divas you are, and order takeout. Choose something that you wouldn't cook at home, such as Thai food, sushi, Greek cuisine, etc. Pizza is yummy, but isn't it time for something a bit more unique?
How about a custom charcuterie and cheese board made up just for you and your friends and ready right at your doorstep? Food delivery service makes parties more convenient. Call in your order and chow down!
6. Concoct Some Cozy Cocktails or Mocktails
As adults, you may want to add alcohol to your ultimate slumber party and also have some non-alcoholic drinks on the menu. With a little imagination and some tasty ingredients, you can make up elegant beverages that look expensive and taste out of this world. Having an alcoholic and non-alcoholic option will make sure everyone is included in these delicious drinks.
Search online for recipes that are simple to create and will impress your group of friends. They not only taste refreshing but also look very inviting. Take, for instance, a spicy watermelon mint agua fresca. It's made with watermelon, granulated sugar, lime juice, mint leaves, chopped jalapeno, cold water and ice cubes.
7. Book a Tarot Reader Visit
Here's another entertaining idea for your adult slumber party and a fun way to look into your future. Schedule a tarot reader to stop by and give individual readings to your guests. They will love it and enjoy hearing what's on tap in the days or years to come.
Tarot readings have been around for many centuries, and the art of divination is more popular than ever. It's cool to have your cards read, whether you believe in psychic predictions or not. Relax, keep an open mind, and just maybe, life's great mysteries will be revealed to you. There are also palm readers and astrology experts who can bring some magic and a few laughs to your adult party.
Adults Like To Have Fun Too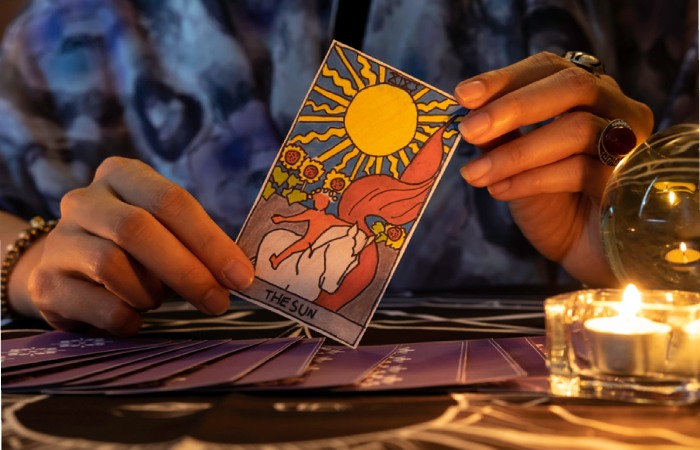 The late playwright George Bernard Shaw once said, "We don't stop playing because we grow old; we grow old because we stop playing."
People lead busy, stressful lives and get used to their daily routines. Planning the ultimate slumber party for adults is an excellent way to switch it up, spend time with friends, and kick it back old school. You're never too mature for hanging out with your besties, remembering the good moments and cuddling on the couch for a scary movie.