Introduction
Side Rangoli Design – Traditionally, Rangoli is an art of decoration drawn on the floor or the entrances of homes. It is thought to bring good luck and prosperity to the house and the family and welcome guests. Some mothers in India do this activity every morning or on a special festive occasion like Diwali, Onam, and Pongal
Rangoli patterns are bright, colorful, and beautiful designs associated with Diwali. They are place to welcome the Hindu Goddess Lakshmi – the goddess of wealth – to your house and are thought to bring good luck. They originated in India but are produce wherever Hindu people celebrate.
The aims of drawing Rangoli are the revelation of beauty and the acquisition of auspiciousness. The forms outlined in the Rangoli are symbolic, and a curved line produces a better effect of beauty than a straight one. Usually, Rangoli is symmetric, representing the balance in life and household.
What is the reason for Drawing Side Rangoli Design?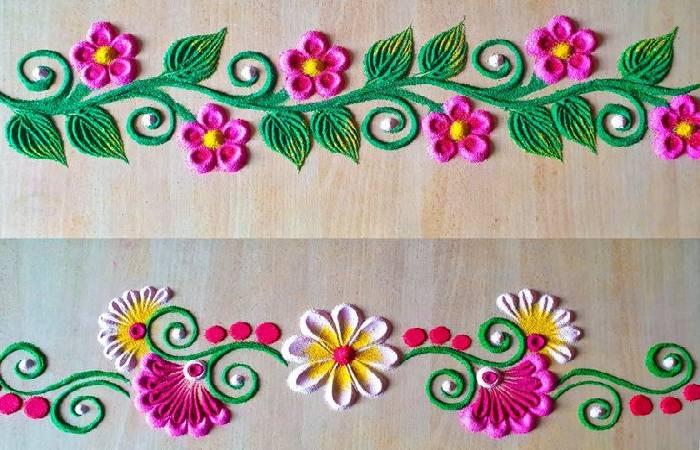 The origin and history of Rangoli are associated with the Pandavas of the Mahabharata. It is believed that Draupadi drew three lines before cooking, showing her gratitude to Surya, the sun god.
Rangoli is a sign of welcome – part of Atithi Devo Bhava – guests are equal to god. It represents auspiciousness, positivity, hope, unity, and happiness within a family.
Rangoli designs can be simple geometric shapes, deity impressions, or flower and petal shapes; they can also be very elaborate designs crafted by numerous people.
The base material is usually powder quartz, dry or wet powder rice, or dry flour, to which sindooram (vermilion), pasupu (turmeric), and other natural colors can be add. Other materials include red brick powder, flowers, and petals, as in the case of flower rangolis. It's better to avoid the modern variation of chemical colors. Choose Eco-Friendly colors and ingredients while you draw rangoli design this Diwali.
Different names of side rangoli design
Side Rangoli Design art is a traditional form of welcoming good luck, and its popularity has remained unaffected over the years. Rangoli competitions are one of the most popular activities during festivals. Rangoli is a spiritual distribution of colors and thus is consider a harbinger of good luck.
India is a land of many languages; hence, this art form has different names in different regions.
Kolam in Tamil Nadu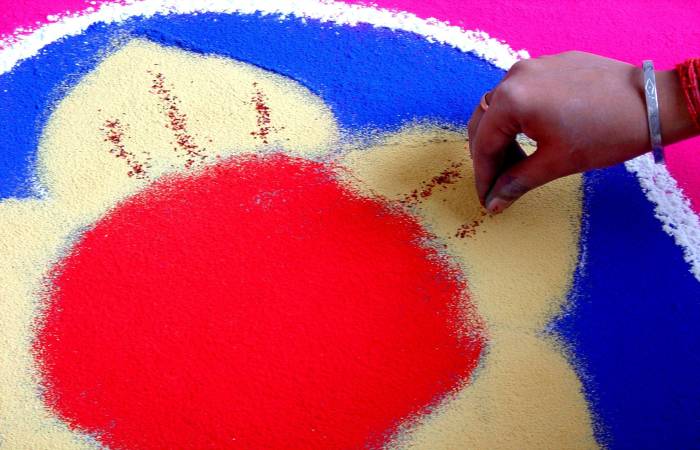 Kolam was traditionally drawn using rice flour or chalk powder. In modern times, use of synthetic-colore powders is also use. Native to Tamil Nadu, Karnataka, Telangana, Andhra Pradesh, Kerela, and some parts of Goa, traditionally, the primary purpose of Kolam was not decoration. Earlier, Kolams were drawn in coarse rice flour so the ants would not have to walk too far for a meal. Along with ants, Kolam encouraged harmonious existence by setting an invitation to birds and other small creatures for a meal.
Mandana in Rajasthan
Named after the popular art of Mandana paintings, this kind of Rangoli is native to Rajasthan. Mandana is drawn to protect health, welcome gods, and mark the celebration of festivals. Mandana is drawn using chalk powder. Women draw this beautiful piece of art form with the help of a piece of cotton, a tuft of hair, or a rudimentary brush made out of a date stick.
Chowkpurana in Chhattisgarh
Famous for its kaleidoscopic designs, Chowkpurana is drawn using dry rice flour or other forms of white dust powder. Although numerous traditional Chaook patterns exist, techniques have evolved over the years depending on the younger generation's creativity. Considered auspicious, Chaook also signifies the showering of good luck and prosperity in the family.
Alpana in West Bengal
The word Alpana is derive from the Sanskrit word 'alimpana.' Alimpana means 'to plaster' or 'to coat with.' Traditionally, women of the house made alpana before sunset. Strictly drawn in white color, fabric colors and a portion of glue can be use to draw an alpaca that stays longer. Other natural colors that can be use are green and red – green to be obtain from leaves and red from sindoor.
Muggu in Andhra Pradesh
Known as Muggupindi, these rangoli patterns can drawn with a mixture of calcium or chalk powder. During festivals, the mixture is make of rice flour as an offering to ants, insects, and sparrows. This gorgeous traditional art is transfer over the generations.
Ugadi and Gudi Padwa 2023: Must Try Side Rangoli Designs
Ugadi, or New Year's Day, is observ in various states nationwide. Goa, Karnataka, Telangana, and Andhra Pradesh celebrate the occasion with pomp and show. Gudi Padwa is a famous spring festival that marks the beginning of the traditional new year, particularly for Konkani and Marathis Hindus.
Ugadi and Gudi Padwa Rangoli Designs
Gudi Padwa Rangoli
How can you miss a new year without making a rangoli? Making Rangolis add charm to the occasion and makes a festival feel more lively. Thus, here is a small and straightforward rangoli design to give a try on the day of the traditional new year.
Ugadi Rangoli
Not everybody has time to make large, complicated, sophisticated rangoli designs in this busy schedule. Making significant and complex structures do look amazing, but they are too time-consuming. Here we have a remedy for you.
Padwa Rangoli
Nowadays, everybody thinks of quick, simple, and fast ways, and we won't take much of your time this New Year's day. Hence, here is a small Gudi Padwa rangoli design that has made quickly and beautifies your house.
Dot rangoli
It's Gudi Padwa and Ugadi; hence, amateurs would want to make rangoli Designs today. However, we can't let them down today. Here is a video for you to help them with a sweet, lovely, and simple rangoli design. This is a step-by-step guide to making a dot rangoli design that is very easy and possible quickly.
Conclusion
It is the freehand art that makes it more creative and fun. A traditional design can find a modern parallel depending on the artist's creativity. Modern-day rangolis look mesmerizing with the inclusion of various embellishments. Flowers, petals, glitters, paints, and stickers make the art form even more beautiful. Unique patterns can create on the festival of Diwali, and when the rangoli is decorate with lighted diyas, it looks stunning.
This traditional art form has seen a modern transition, too, and various rangoli competitions use this art to communicate a social message and create awareness of social issues. Women empowerment, female feticide, rape, and also environmental misbalances are a few issues that have gained popularity over the years.