Keep Your Hair Healthy and Hydrated This Winter with These Tips
When the temperatures start to drop, the cooler weather can take a toll on your hair. Cold weather can completely change your hair's texture from dry, split ends to dandruff. It's important in the winter to take extra good care of your hair by protecting it from colder temps and using professional hair care products to keep it shiny and healthy.
Here are some of our top tips for how to keep your hair hydrated this winter:
Use Leave-In Conditioner
Leave-in conditioner can help retain some of that much-needed moisture in your winter hair. Depending on how dry your hair is, you can use a small amount of leave-in conditioner once a day, once every few days or once a week. For dry hair, once a day is okay. For oily hair, keep your leave-in conditioner to once a week. When using a leave-in conditioner, work the product into the ends of your hair, not the roots. Putting leave-in conditioner in your roots can make your hair oily.
Protect Your Hair at Night
Wearing something to protect your hair at night is something that should be a part of your regular self-care routine, but using hair protection at night in the winter is even more essential because the cold weather will zap moisture from your hair. Sleep with a silk cap or silk pillow cover to reduce friction and breakage. Cotton pillowcases and sheets can soak up moisture in your hair.
Wash Your Hair with Cooler Water
Taking a steaming hot shower may feel incredible in the chilly winters, but hot water can do a lot of damage to your hair, removing moisture and weakening the hair. You can keep the temperature up while washing your body, but when you're ready to rinse your hair, lower the temperature to lukewarm or even cool to help your hair retain moisture.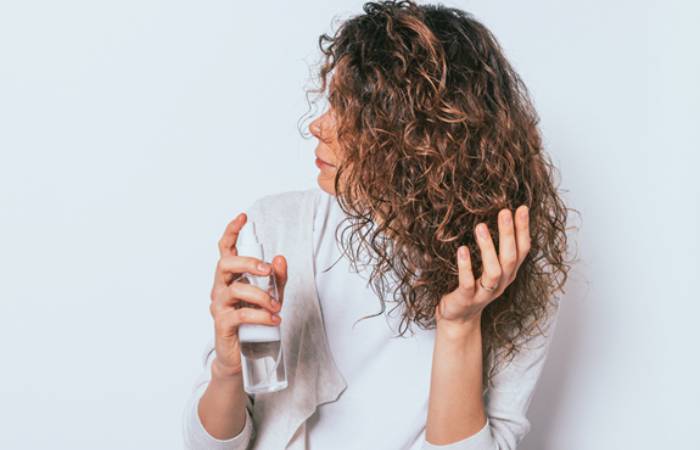 Minimize Your Use of Heat Tools
Hot styling tools can transform your hair into a chic new style — but they can also do a lot of damage. Using heat tools occasionally is okay for your hair as long as you use hair care products that prevent heat damage. But, repeated exposure to high heat will rip moisture out of your hair and cause it to become brittle and dry. If you blow dry your hair often, try using the low or cool setting instead. Avoid using a straightener or curling iron every day.
Dry Your Hair Before Leaving the House
Your mom probably told you when you were young not to leave the house with wet hair, or you would get sick. Well, that might just be a myth. But, leaving the house with wet hair in the winter can suck moisture out and leave you with dry strands, so always blow dry or gently dry your hair first. When you do leave the house, protect it against harsh temperatures by sporting a hat with a silk lining.
Deep Condition Weekly
Keep your hair moist and healthy by using a salon conditioner or leave-in hair mask once a week in the winter. This will help combat dryness and static that often occurs in the winter. Apply your deep conditioners or hair mask to wet hair after shampooing and let it sit for 10-15 minutes before rinsing out.
Keep Shampooing to a Minimum
Overwashing your hair can lead to weak hair susceptible to breakage. Depending on your hair type and level of natural oils, you can go every other day without shampooing or once a week. Find the shampoo schedule that makes sense for you, and then be sure to use high-quality professional shampoo to avoid any unexpected ingredients that can actually cause further drying out.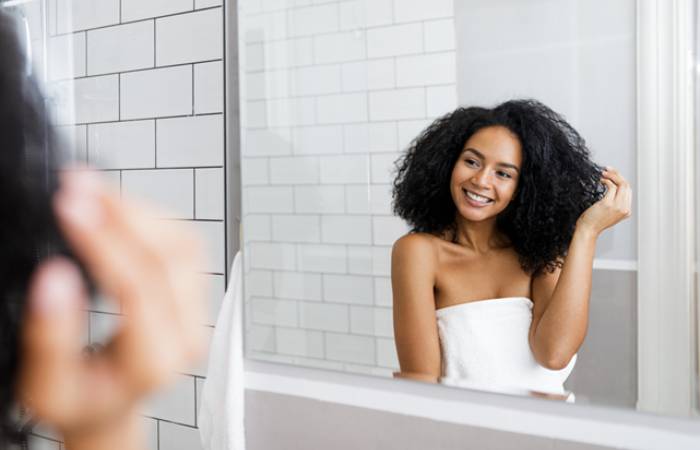 Co-Wash Your Hair
Co-washing, or conditioner-only washing, your hair has become increasingly popular among people with very curly or extremely dry hair. This method of washing means you do not shampoo at all. Co-washing can be a way to add lots of hydration to your hair, which is exactly what many people need in the winter. People with oilier hair may need to wash daily, while others may only need to co-wash once a week. To find the right conditioner, browse professional hair care products for conditioners without silicones. Look for ingredients like shea butter, wheat germ and moisturizers like aloe vera.
Steam Your Hair
If you've never used a hair steamer before, get ready for your life to change. This tool steams your hair, opening cuticles and allowing moisturizers and hair care products to soak into the hair, keeping it healthier and more hydrated.
Don't Let the Winter Weather Stop You from Having Beautiful Hair
Just because the cold weather can impact our hair doesn't mean you can't do anything about it. Try implementing some of these tips and tricks to keep your hair shiny, beautiful, healthy and hydrated all winter long. You'll have people asking for your hair care secrets before too long.